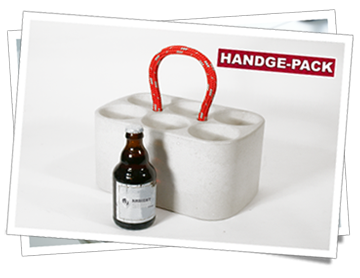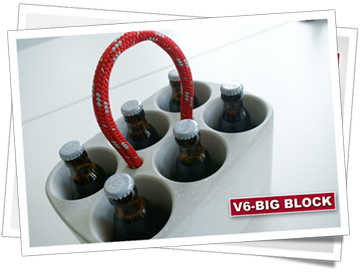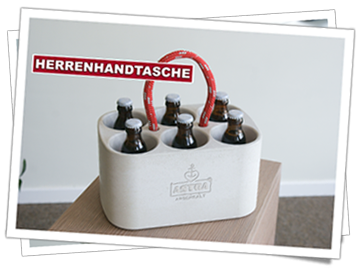 Handge-

Pack: Bottle Cooler made of Concrete - The first approved `non-gay` mens purse...
This solid bottle cooler made of hand casted concrete, keeps your drinks chilled and makes a clear statement regarding design and material...
Handge-Pack - Bottle Cooler made of Concrete
Just put the bottle cooler for about 90 minutes in the fridge or freezer before use and it keeps your beverage cans, drinks or bottles pleasantly cold. The bottle cooler is hand casted into special molds and comes with a pleasantly smooth surface and convenient wrist strap along. Handge-Pack weighs 6.9 Kg, is suitable for beverage cans and bottles up to max. 7 cm in diameter and has the following dimensions: length 28.5 cm / width 19 cm / height 15 cm.

Concrete; a rediscovered medium for a interior design
Thanks to our wet casting process, concrete loses its rough and brittle haptics, this sustainable building material is commonly associated with. Through specially designed molds, our bottle coolers get their fine surface which is surprisingly comfortable in your hand and whose 'patina' individually with each cast a little different comes along. Minor irregularities make the `Handge-Pack - Bottle Coolers made of Concrete` a unique piece of art and a stylish eye-catcher...
Branding for catering- and corporate clients
Each bottle cooler is a unique masterpiece - Hand casted to Portland formulation, equiped with an indestructible wrist strap made of sheet rope and customized with your logo or CD in Uptown Hamburg. We deliver your logo `casted into the concrete` or `4-C-printed` onto the concretes surface . For more information about our newly released product `Handge-Pack - Bottle Cooler made of Concrete ', please call or email.
Ambientshop Hamburg Tel: 040-303303 50
eMail: bottle-cooler(at)ambientshop.com